Displaying 1 - 2 of 2
The Aura 3 is the smallest Varde stove at 87cm tall which makes it just right for the more compact living spaces. It runs at 5 average kilowatts and therefore doesn't have to be fitted with an air vent. The Aura 3 has all the refinements the larger...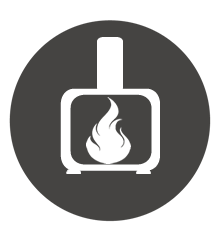 The Varde Uniq1 offers a 180 degree view of the fire which makes it an eye catching focal point in any lounge. The side panels are double glazed to increase firebox temperature and help the glass stay clear. The Uniq 1 can be directly connected to...